I went to visit Debbie's wonderful flock tonight! Click the images for a larger view. :)

Jamie

Mojo

Mojo showing off his wings...

Pretty wings!!!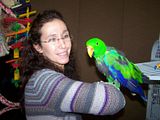 Debbie & Eko

Adorable Ekkies!

Jamie

Diego... big boy!

He's a pretty boy too. :)

Eko wanted to know what we were doing in the other room... *giggle*

Is that a camera? ~Eko

Diego playing

Sugar kisses for Mojo!

Sugar kisses for Jamie

Jamie was a big flirt. hehe.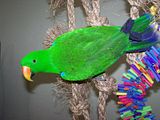 Pretty Ekkie ~Mojo
It was great fun! I really enjoyed visiting with Debbie and her flock!